Basil Sauce (not a Pesto sauce! 😉 )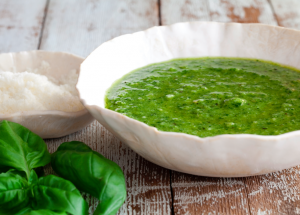 Ingredients:
Organic Basil, two bunch
Garlic 3-4 cloves (or more if you like)
Extra Virgin Olive oil, enough to make a smooth and runny mixture
A pinch of Himalayan salt and pepper
Preparation:
Blend Organic Basil, garlic, salt and pepper in a blender. Add Olive oil little by little till you get that thickness you desire.
You can keep this sauce in the fridge for a week and use it on everything you like!
To make a salad dressing, just add some fresh lemon juice to 1-2 table spoon of this sauce and mix it with your salad or you can eat it as a dipping sauce with bread and cheese!
So Yummy!  😉  🙂
Zucchini and Green Beans Dish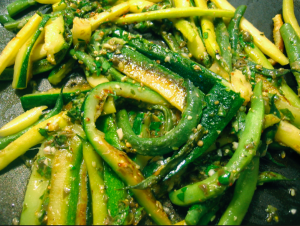 Ingredients:
1-2 tablespoons Basil Sauce
1 tablespoon fresh lemon juice
2 teaspoons Dijon mustard
1 green onion, coarsely chopped
2-3 tablespoons Extra Virgin Olive Oil
1 pound green beans, stem end trimmed
12 ounces zucchini, halved lengthwise, each half cut lengthwise into 1/3-inch-wide strips
3 tablespoons water
Some Himalayan salt and pepper for seasoning
Preparation:
Heat oil in heavy large skillet over medium-high heat. Add vegetables; stir until coated. Sprinkle with salt and 3 tablespoons water. Cover; cook vegetables until almost crisp-tender, stirring occasionally, about 4 minutes. Uncover; cook until vegetables are just tender, about 2 minutes longer. Stir in enough sauce verte to coat vegetables generously. Season with Himalayan salt and pepper.
Enjoy!
A great salad for lunch or dinner! 
The portion seems small but when eating consciously while enjoying every bit of it, you will somehow feel satisfy at the end!
Try it…you'll see! 😉 😉
Ingredients:
2 cups Organic spring green mix (or you can make it an Arugula Salad)
1 Pink grapefruit
2-3 spoons Extra Virgin Olive Oil
1 orange – Juiced
some cilantro
pinch of salt and pepper

For dressing, use this beautiful orange juice + olive oil + cilantro combination+ some salt and pepper.
Taste Like Heaven! 🙂 
Enjoy!
Pasta With Avocado Sauce
Indeed one the most delicious and healthiest pasta you could ever have!!!
Ingredients:
2 cups Spinach
2 Avocados
2 gloves Garlic
2 tablespoons Lime juice
Enough Extra Virgin Olive oil
Some Himalayan salt and pepper for seasoning
Parmesan cheese as desired
Preparation:
Have the pasta ready first. The pasta should not be very soft. Put all the ingredients in the blender and mix it till you get a smooth sauce. Mix the sauce with pasta till the pasta absorbs the sauce and gets blend with it very well.  Top it up with some parmesan cheese!
And Voila! 😉
Enjoy!
Black and White Eggplant With Layers of Tomatoes and Goat Cheese

Baked Black and White Eggplant with Tomatoes, Basil and Goat Cheese
Ingredients:
1 lb eggplant, half black and half white
1 lb red tomatoes
9 oz goat cheese
1/4 cup fresh basil leaves
1 garlic clove, minced
Enough Extra Virgin Olive Oil
1/3 cup pureed tomatoes
1/4 cup balsamic vinegar
Himalayan salt and cayenne pepper to taste
Preparation:
Slice eggplants and brush them with olive oil and sauté both sides over medium until golden brown.
Slice tomatoes thinly. Slice goat cheese from the log thinly (use very cold cheese).
On a dish, layer eggplant, goat cheese, basil and tomato. Add a few pinches of salt and pepper. Start next layer with opposite color eggplant and repeat. Finish with eggplant slices as the top layer. Drizzle a little olive oil on top.
Heat the oven to 300 and put your dish in the oven until goat cheese is soft.
While eggplant is in oven, make sauce by combining garlic, balsamic vinegar, pureed tomatoes, and 3/4 cup olive oil in a food processor until well combined and thick. Season with salt and pepper to taste.
When layered eggplant is done, remove from oven and serve with balsamic vinegar-tomato puree.
Bon Apetit! 😉