How To Make The Moistest Thanksgiving Turkey
With Our Tasteful Flavoured Olive Oils & Maple Syrup Balsamic Vinegar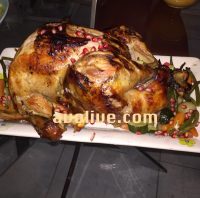 This Year, For Our Thanksgiving Turkey We Used The Same Instruction
Just With A little Bit of Difference.
We share this recipe every year for Thanksgiving but this year we used
our Maple Syrup Balsamic Vinegar and a few drops of Chili olive oil
to marinate Turkey's stuffing (Just using vegetables for stuffing:
Celery, Onions, Garlic, Cilantro and Carrots)
and our Tuscan and Herbs De Provence Flavoured Olive Oils
to rub inside and outside of the Turkey.
At the end drizzle the olive oil on top of the Turk
ey when It's all done.
Everyone Goes WOW, After Each Bite!!!    
Find The Original Recipe Here:
Have A Happy & Healthy Thanksgiving!!!